NSF International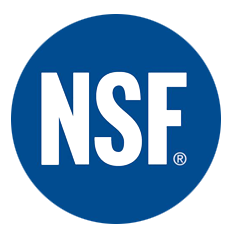 The NSF mark guarantees that a product has been tested by one of the most respected independent certification organizations. The NSF mark represents compliance with all the standard requirements.
NSF International conducts unannounced periodical inspections and product testing, in order to verify that they continue to comply with the established standard.
According to NSF International, the NSF mark also provides:
Certainty that an impartial review has been carried out in accordance with established guidelines and criteria.
Evidence that the product's labeling has been checked by a reliable third party.
Means to differentiate from similar products.
Evidence that the manufacturer is committed to quality and safety.
Permanent support by a professional team devoted to public health and safety.