Products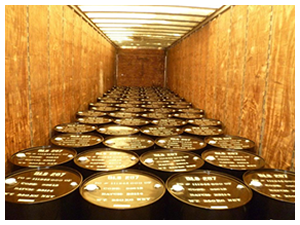 Química Liposoluble offers to the lubricants market, sulfonic acids and both synthetic and mixed base sodium, calcium and barium sulfonates.
Some of these products may also be used in the metal-mechanic industry as anti-rust protection coatings, as pigment dispersing agents in the painting industry and as anticorrosive elements, among other uses.
Our sodium sulfonates are available in low, medium and high molecular weight.
We manufacture, neutral and high alkalinity calcium sulfonates, with total base numbers (TBN) of 300 and 400 mg of KOH/gr, and with up to 70% concentration of active sulfonate.
Our calcium sulfonates in white oil are adequate for the manufacture of lubricant oils and sulfonate greases, used to lubricate food processing and handling equipment.  These products are registered in "NSF International" and are authorized to use the NSF mark.
We also produce barium sulfonates in neutral and high alkalinities, with TBN of 4 and 67.
The alkalinity of our barium sulfonates makes them adequate to be used in the manufacture of complex rust and corrosion preventive coatings.
Our product portfolio includes sulfonic acids with high active content and very low free mineral acid which makes them ideal intermediates for the manufacture of calcium, sodium, potassium, barium and polyamine sulfonates among others.
The manufacturing process is based on the sulfonation of selected organic chemical products with fuming sulfuric acid.
We toll manufacture and make joint developments with our customers for specialty sulfonic acids.